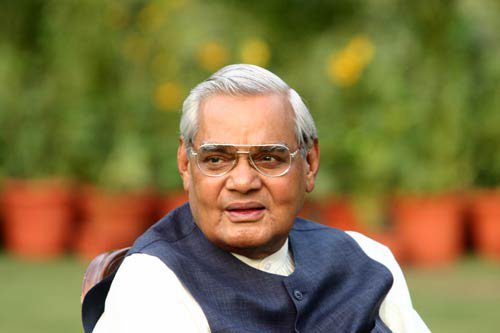 We have listed out all the achievements of Bharat Ratna Shri Atal Bihari Vajpayee as Prime Minister of India.
➡ Operation Shakti (Pokhran-II) nuclear tests.
➡ Passed the Chandrayan-1 project.
➡ National Highway Development Project.
➡ 'Sagarmala Project' mooted in 2003
➡ Goldern Quadrilateral.
➡ North-South and East-West Corridors
➡ Pradhanmantri Gramin Sadak Yojna.
➡ Delhi Metro Project.
➡ Dhola Sadiya Bridge (Dr. Bhupen Hazarika Setu)
➡ Bogibheel Bridge (Brahmputra – Assam) ongoing.
➡ Jammu and Baramulla Rail Link & 'Chenab Bridge'
➡ Indian Rivers Inter-link Project kicked-off.
➡ Promulgated 'Prevention of Terrorism Act'.
➡ Prevention of Terrorism Activities Act (POTA).
➡ Defence Intelligence Unit created.
➡ Information Technology and Industrial Parks.
➡ Important Disinvestments.
➡ Fiscal Responsibility Act.
➡ Introduced GST concept & established task force.
➡ Introduced Insurance FDI.
➡ New Telecom Policy (NTP).
➡ Sarva Shiksha Abhiyan – Right ot Education
➡ Swajal Dhara scheme for Drinking Water
➡ Freedom of Information Act (RTI).
➡ Multipurpose National Identity.
➡ Antyodaya Anna Yojona
➡ National Institute of Technology
➡ Pravasi Bharatiya Samman.
➡ Ministry of Tribal Affairs' established
➡ Delhi-Lahore Bus regular link after 1947.
➡ Operation Vijay (Kargil War).
➡ Strategic and military cooperation with Israel
➡ Impetus to India's 'Look East Policy'
➡ Purchased 'INS Vikrmaditya' for Indian Navy.
➡ Agreement for 'Sukhoi', 'Brahmos'.
➡ "Tejas", First Flight took in 2001.
➡ Kudankulam Nuclear Power Plant.
➡ Uttarakhand, Chhattisgarh and Jharkhand created.