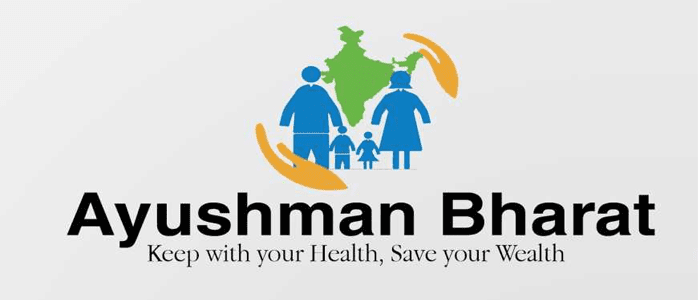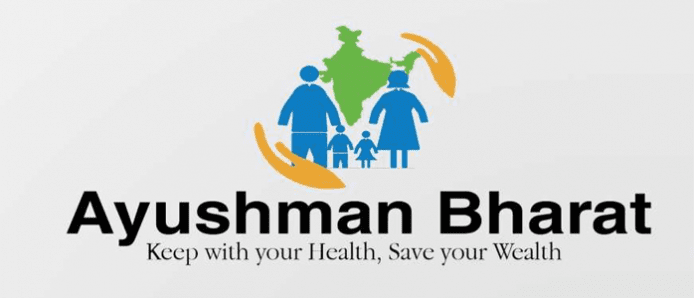 India has achieved significant public health gains and improvements in health care access and quality over the last three decades. The health sector is amongst the largest and fasting growing sectors, expected to reach US$ 280 billion by 2020. At the same time, India's health sector faces immense challenges. It continues to be characterized by high out-of-pocket expenditure, low financial protection, low health insurance coverage amongst both rural and urban population. It is a matter of grave concern that we incur a high out-of-pocket expenditure on account of health and medical costs. 62.58% of our population has to pay for their own health and hospitalization expenses and are not covered through any form of health protection. Besides using their income and savings, people borrow money or sell their assets to meet their healthcare needs, thereby pushing 4.6% of the population below the poverty line. The Government of India is committed to ensuring that its population has universal access to good quality health care services without anyone having to face financial hardship as a consequence.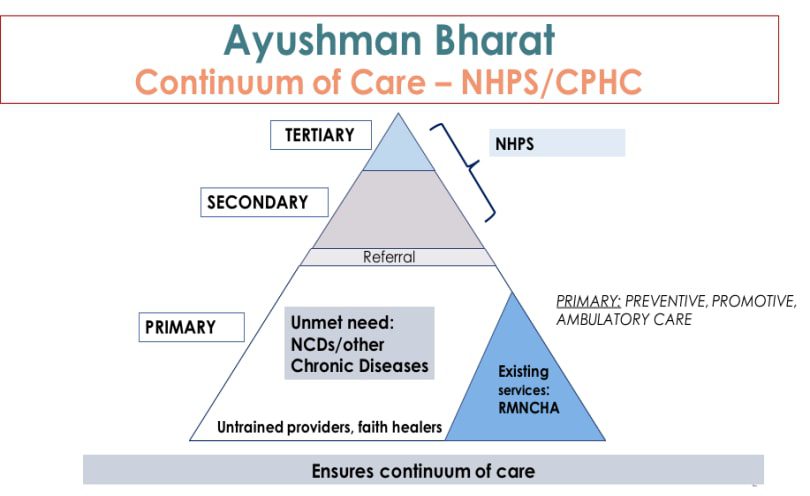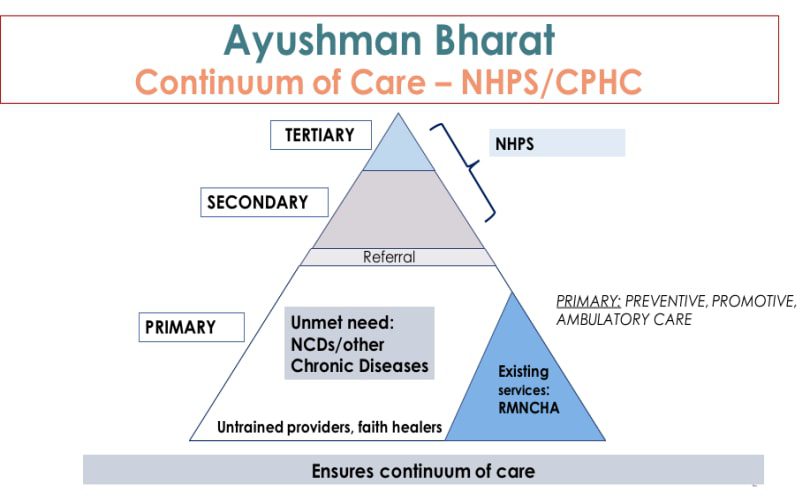 Under the ambit of Ayushman Bharat, a National Health Protection Mission (AB-NHPM) to reduce the financial burden on poor and vulnerable groups arising out of catastrophic hospital episodes and ensure their access to quality health services was conceived. AB-NHPM seeks to accelerate India's progress towards achievement of Universal Health Coverage (UHC) and Sustainable Development Goal – 3 (SDG3).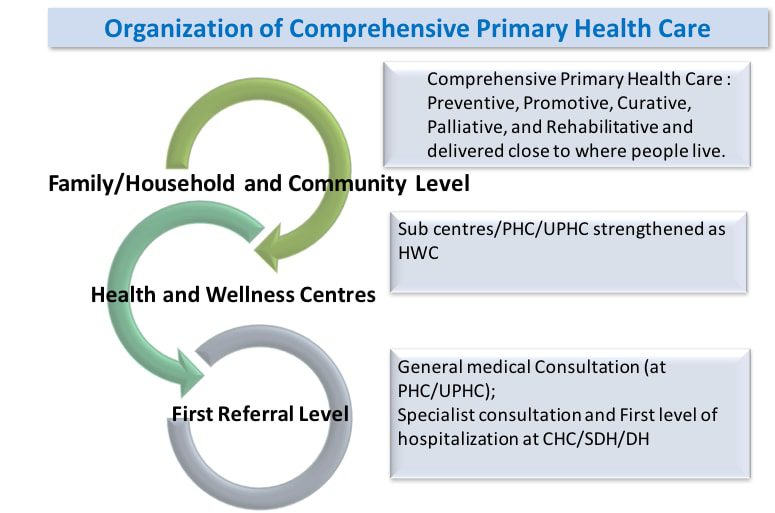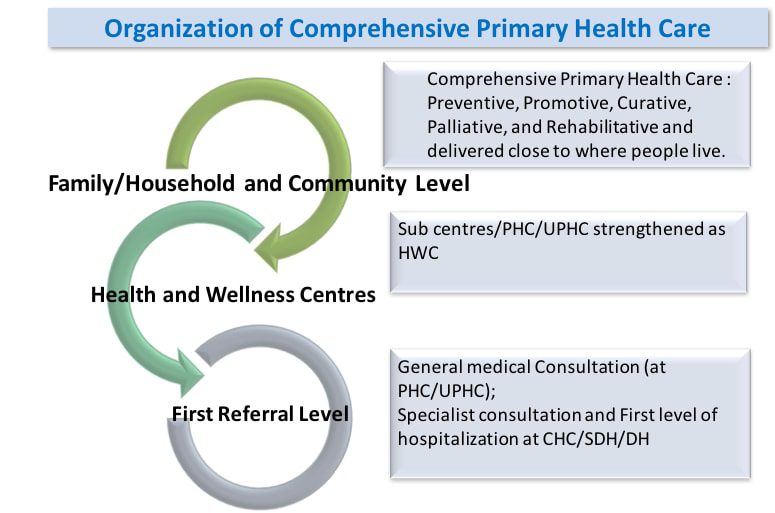 Ayushman Bharat – National Health Protection Mission (AB-NHPM) will provide financial protection (Swasthya Suraksha) to 10.74 crore poor, deprived rural families and identified occupational categories of urban workers' families as per the latest Socio-Economic Caste Census (SECC) data (approx. 50 crore beneficiaries). It will have offer a benefit cover of Rs. 500,000 per family per year (on a family floater basis).


AB-NHPM will cover medical and hospitalization expenses for almost all secondary care and most of tertiary care procedures. AB-NHPM has defined 1,350 medical packages covering surgery, medical and day care treatments including medicines, diagnostics and transport.
To ensure that nobody is left out (especially girl child, women, children and elderly), there will be no cap on family size and age in the Mission. The scheme will be cashless & paperless at public hospitals and empanelled private hospitals. The beneficiaries will not be required to pay any charges for the hospitalization expenses. The benefit also includes pre and post-hospitalization expenses. The scheme is an entitlement based, the beneficiary is decided on the basis of family being figured in SECC database. When fully implemented, the AB-NHPM will become the world's largest government funded health protection mission.


Benefits of AB-NHPM
Beneficiary Level
Government provides health insurance cover of up to Rs. 5,00,000 per family per year.
More than 10.74 crore poor and vulnerable families (approximately 50 crore beneficiaries) covered across the country.
All families listed in the SECC database as per defined criteria will be covered. No cap on family size and age of members.
Priority to girl child, women and and senior citizens.
Free treatment available at all public and empaneled private hospitals in times of need.
Covers secondary and tertiary care hospitalization.
1,350 medical packages covering surgery, medical and day care treatments, cost of medicines and diagnostics.
All pre-existing diseases covered. Hospitals cannot deny treatment.
Cashless and paperless access to quality health care services.
Hospitals will not be allowed to charge any additional money from beneficiaries for the treatment.
Eligible beneificiares can avail services across India, offering benefit of national portability. Can reach out for information, assistance, complaints and grievances to a 24X7 helpline number – 14555


Health System
Help India progressively achieve Universal Health Coverage (UHC) and Sustainable Development Goals (SDG).
Ensure improved access and affordability, of quality secondary and tertiary care services through a combination of public hospitals and well measured strategic purchasing of services in health care deficit areas, from private care providers, especially the not-for profit providers.
Significantly reduce out of pocket expenditure for hospitalization. Mitigate financial risk arising out of catastrophic health episodes and consequent impoverishment for poor and vulnerable families.
Acting as a steward, align the growth of private sector with public health goals.
Enhanced used to of evidence based health care and cost control for improved health outcomes.
Strengthen public health care systems through infusion of insurance revenues.
Enable creation of new health infrastructure in rural, remote and under-served areas.
Increase health expenditure by Government as a percentage of GDP.
Enhanced patient satisfaction.
Improved health outcomes.
Improvement in population-level productivity and efficiency
Improved quality of life for the population


Source : Ministry of Health & Family Welfare, Government of India.